Regional Educational Media Center - Region 21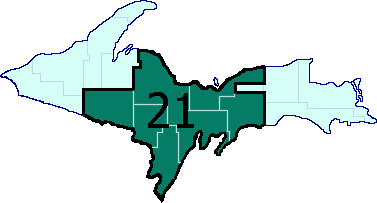 REMC 21 is one of twenty-eight REMCs in the state of Michigan, promoting the use of digital resources and professional development to enhance K-12 education in their local schools. REMCs are a center for technology information and provide access to the Statewide Cooperative Purchasing Program, which allows schools to save money on computers, software, and other learning multimedia as well as general school supplies.
REMC 21 serves public and private schools in the Upper Peninsula's Alger, Delta, Dickinson, Iron, Marquette, Menominee, and Schoolcraft counties.
Many REMC 21 districts have access to Discovery Education's Unitedstreaming, a large online video and image library. Unitedstreaming videos can be displayed to an entire classroom by using a projector or can be downloaded to an individual's computer for use in a multimedia project such as a Powerpoint presentation.
REMC 21 Director
Trae Forgette
Email: tforgette(at)maresa.org
Phone: (906) 226-5128
Cooperative Purchasing REMC 21
Wendy Maki
Email: wmaki(at)maresa.org
Phone: (906) 226-5131
REMC Links
Remote Learning Toolkit
REMC Association of Michigan
REMC Cooperative Purchasing
United Streaming/Discovery Education