Regional Educational Media Center - Region 21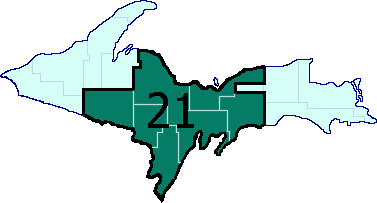 REMC 21 is one of twenty-eight REMCs in the state of Michigan, promoting the use of digital resources and professional development to enhance K-12 education in their local schools.
REMC 21 serves public and private schools in the Upper Peninsula's Alger, Delta, Dickinson, Iron, Marquette, Menominee, and Schoolcraft counties. It is the goal of REMC 21 to provide educators with equitable access to information, professional development opportunities, teaching materials, and resources through collaborative partnerships and consortium activities. Our Remote Learning Toolkit is available for use by educators and parents alike.
As a member of the REMC Association Michigan, services include:
REMC Statewide SAVE Program

REMC SAVE is provided as a service of the REMC Association of Michigan for all Michigan schools. The Project provides large volume contracts for a variety of educational resources. By using REMC SAVE contracts, Michigan schools have saved more than $865 million since 1990. Every dollar saved through REMC SAVE today is one more dollar to invest in instruction tomorrow.

Professional Learning

REMC Instructional Technology Specialists (RITS)
21 Things 4 Teachers
21 Things 4 Teachers PD Modules
MI Streamnet
PLAYDATE (People Learning and Asking Y: Digital Age Teacher Exploration)
REMC Connect Newsletters

Classroom Tools

Classroom Makers
Michigan Learns Online
21 Things 4 Kids
21 Things 4 Students
21 Things 4 iPads
Streaming Video Project
Follow the REMC Association of MI on Twitter
REMC 21 Director
Trae Forgette
Email: tforgette(at)maresa.org
Phone: (906) 226-5128
Cooperative Purchasing REMC 21
Wendy Maki
Email: wmaki(at)maresa.org
Phone: (906) 226-5131
REMC Links
Remote Learning Toolkit
REMC Association of Michigan
REMC Cooperative Purchasing
United Streaming/Discovery Education