Culinary & Hospitality Management
Career Focus
Prepared for immediate employment, advanced certifications, and further education
Details
Students enrolled in the hospitality management associate degree program at NMU will learn in a challenging and rewarding hands-on environment. Students learn about supervision, management, planning, delegation, and responsibility, while gaining experience in quantity food production and management. Students in this class:
Operate the Culinary Café as well as Chez Nous, a high-end restaurant
Work at culinary events
Tour local restaurants and food service operations
Obtain work experience
Learn about banquet and catering operations including:
Setup
Layout
Pricing
Costing
On and off-premise events
Bar and wine service
The lodging and tourism components of the program will prepare students to meet the needs of guests who are away from home and monitor the revenue activity of a hotel or tourism facility. This course will cover guest services, culinary arts, baking, sanitation, applied math/finance and kitchen safety.
Michigan and National Employment & Wage Data
Bachelor's Degree or Higher
Career/Technical Education Teachers
Food Scientists and Technologists
Associate's Degree, Long-Term Training & Apprenticeships
Agricultural and Food Science Technicians
Bakers
Chefs and Head Cooks
Certificate or Moderate-Term Training
Cooks
Food and Tobacco Roasting, Baking, and Drying Machine Operators
Food Batchmakers
Food Cooking Machine Operators
Food Processing Workers
High School Diploma or Equivalent & Short-Term Training
Bartenders
Cooks
Counter Attendants, Cafeteria, Food Concession, and Coffee Shop
Dining Room Attendants and Cafeteria Attendants
Food Preparation
Food Servers, Non-restaurant
Food Service Managers
Hosts and Hostesses
Waiters and Waitresses
Students should inquire within their guidance office about high school curriculum requirements that may be satisfied through a college course, as this is determined individually by school district.
Students earn direct college credits from NMU at no cost.
Industry-recognized Certification
National Restaurant Association ServSafe Food Safety (an industry standard)*
ServSafe Food Protection Manager Certification
*Credentials are nationally recognized, portable and stackable, which means students have the option of attaining more advanced credentials in the future
Culinary Arts Showcase Dinner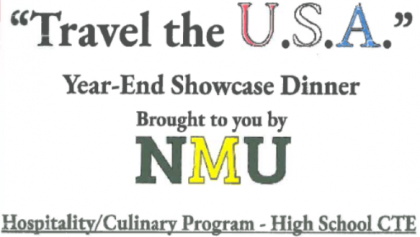 High school students in the Hospitality / Culinary Art program at NMU served a delicious & elegant dinner featuring delicacies from around the USA! Students prepared everything from the fantastic gourmet main dishes & savory desserts to the professional and classy invitations, programs and menus. Students also practiced hospitality skills by greeting and hosting all the dinner guests in an upscale manner.