Automotive Tech
Testimonials
Aaron, MARESA Automotive Service Technology Student
"Every single day I come in I learn something and this is the highlight of my day!"
Career Focus
Prepared for immediate employment, advanced certifications, and further education
Details
Students enrolled in the automotive service technology associates degree or certificate program at NMU will learn how to develop a variety of knowledge and skills related to:
Workplace safety
Employability practices
Logical problem solving
Precision measurement
Electrical diagnostics
The diagnosis and repair of engine mechanical components such as:
Steering
Suspension and alignment
Brakes
Manual drivelines and axles
Electrical and electronic systems
Heating, ventilation and air conditioning
Automatic transmissions/transaxles
Fuel and ignition systems
Computer control systems
Proper engine performance
The automotive technology instructor is ASE Master Technician certified (National Institute for Automotive Service Excellence) and the program is ASE Master Level accredited.
Skills Learned
Skills learned may be applied to:
Mining operations
Heavy (diesel) equipment
Automotive manufacturing
Auto parts sales
Performance racing industries
Job Opportunities
Job opportunities in automotive service:
Manufacturer specific dealerships
Independent repair facilities
Specialty service providers
Fleet maintenance and repair facilities
Michigan and National Employment & Wage Data
Bachelor's Degree or Higher
Career/Technical Education Teachers
General and Operations Managers
Associate's Degree/Long Term Training/Apprenticeships
Automotive Body and Related Repairers
Automotive Glass Installers and Repairers
Bus and Truck Mechanics and Diesel Engine Specialists
Farm Equipment Mechanics and Service Technicians
Maintenance and Repair Workers, General
Mobile Heavy Equipment Mechanics
Motorboat Mechanics and Service Technicians
Recreational Vehicle Service Technicians
Certificate or Moderate-Term Training
Automotive Service Technicians and Mechanics
Installation, Maintenance, and Repair Workers
Maintenance Workers, Machinery
Motor Vehicles, Electronic Installers
Outdoor Power Equipment and Other Small Engine Mechanics
Tire Builders
High School Diploma or Equivalent & Short Term Training
Automotive and Watercraft Service
Helpers--Installation, Maintenance, and Repair Workers
Motorcycle Mechanics
Supervisors of Mechanics
Tire Repairers and Changers
Students should inquire within their guidance office about high school curriculum requirements that may be satisfied through a college course, as this is determined individually by school district.
Students earn direct college credits from NMU at no cost.
The National Institute for Automotive Service Excellence (ASE) Certification (Test required)
ASE and State certification tests are offered at the end of each semester
Occupational Safety and Health Administration (OSHA) and Environmental Protection Agency (EPA) compliant
*Certificates from the National Coalition of Certification Centers (NC3):
*Credentials are nationally recognized, portable and stackable, which means students have the option of attaining more advanced credentials in the future.
NMU Automotive ranked #10 in nation and receives ASE Accreditation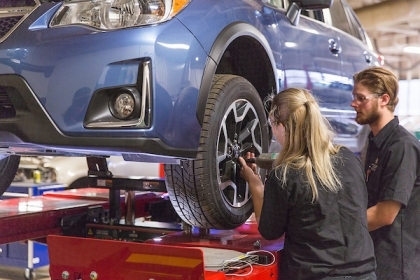 NMU's automotive programs are dedicated to preparing students for, and helping them secure, stable, long-term careers in the automotive service industry.
The Technology and Occupational Sciences Department at NMU works closely in partnership with industry professionals and businesses to provide internships and employment opportunities for students, giving them knowledge, experience, and connections.
The curriculum centers on Automotive Service Excellence (ASE) certification standards. The hands-on technical courses are taught with small class sizes in specialized labs in a state-of the-art facility, the Jacobetti Complex.
The degree programs offered through the Technology and Occupational Sciences Department are designed to "ladder" so that the credits of a certificate or 2-year degree can be applied toward a more extensive degree, such as a B.S. in a related field, without having to make up for missing credits. To aid in this, NMU offers numerous scholarship opportunities.
Northern Michigan University's automotive service technology program renews accreditation