Marketing
Testimonials
Christine Columb, Marquette High School, Teacher
"We had to do all the things that you would normally have to do when you start a business. The students made all of the decisions."
Grace H., Marquette High School, Student
"This is going to be a really nice place to chill out and each lunch maybe, or chill here before class starts. Definitely take a business class!"
Marah E., Marquette High School, Student
"I have designed the logo and menu for the coffee shop that we're opening up."
Career Focus
Prepared for immediate employment, advanced certifications, and further education.
Who Can Attend
This class is typically available to students in grades 10 - 12.
Details
This Marketing class is the foundational course for all pathways in Marketing Education. Marketing addresses all the ways in which marketing satisfies consumer and business needs for products and services. Students will:
Develop an understanding of marketing functions
Understand how marketing functions affect all businesses
Learn basic marketing concepts
Learn the role of marketing in our economy
Skills
Develop skills in applying economic concepts to:
Marketing
Distribution and logistics
Marketing information management
Finance in marketing
Product/service planning
Pricing mixes
Promotional strategies
Personal selling
Michigan and National Employment and Wage Data
Bachelor's Degree or Higher
Accountants and Auditors
Appraisers and Assessors of Real Estate
Audio-Visual and Multimedia Collections Specialists
Career/Technical Education Teachers
Chief Executives
Compliance Officers
Cost Estimators
Credit Analysts and Counselors
Designers, Graphic & All Other
Financial Analysts
Loan Officers
Market Research Analysts and Marketing Specialists
Meeting, Convention, and Event Planners
Personal Financial Advisors
Public Relations Specialists
Purchasing Agents, Except Wholesale, Retail, and Farm Products
Sales Representatives, Wholesale and Manufacturing, Technical
Securities, Commodities, and Financial Services Sales Agents
Specialists, Financial, Human Resources & Labor Relations
Associate's Degree, Long Term Training, Apprenticeships
Broadcast Technicians
Claims Adjusters, Examiners, and Investigators
Funeral Service Managers
Human Resources Assistants, Except Payroll
Photographers
Real Estate Sales Agents
Certificate or Moderate-Term Training
Advertising Sales Agents
Audio and Video Equipment Technicians
Bill and Account Collectors
Clerks
Data Entry Keyers
Eligibility Interviewer
Insurance Sales Agents
Sales Representatives, Except Technical
Secretaries, Legal, Medical
Sound Engineering Technicians
Tax Preparers
Travel Agents
s
High School Diploma or Equivalent & Short-Term Training
Cashiers
Clerks
Customer Service Representatives
Gaming
Library Assistants, Clerical
Receptionists
Retail Sales
Sales Representatives, Services, All Other
Secretaries and Administrative Assistants
Switchboard Operators
Students should inquire within their guidance office about high school curriculum requirements that may be satisfied through a CTE class, as this is determined individually by school district.
College credit(s) possible (CLEP Test required)
Students have the potential of earning college credits by achieving satisfactory scores on the College Level Examination Program exam (CLEP)
Each college reserves the right to set its own credit-granting policy
Contact your college(s) to find out the score it requires to grant credit, the number of credit hours granted, and the course(s) that can be bypassed with a satisfactory score
Marketing is a new class at MSHS and certifications may be available in the future.
Wake U.P. Coffee Shop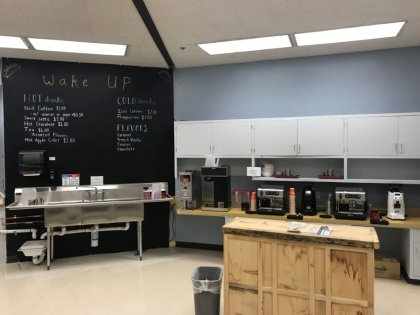 Wake U.P. is a student-run coffee shop that is open to all students and staff of the high school!
The Wake U.P. Coffee Shop is located inside Marquette Senior High School. Wake U.P. is a student-run coffee shop that is open to all students and staff of the high school. Marketing instructor, Christine Columb, and her 2017-18 students started the coffee shop from scratch, and a new group of students will be continuing the hard work of past students, and implementing new and exciting products, promotions, and ideas this school year. As students are learning the principles of marketing, they are applying all of this new knowledge and putting it into action in the coffee shop.
Location
Marquette Senior High School
1203 West Fair Avenue
Marquette, Michigan 49855
Instructors
Christine Columb