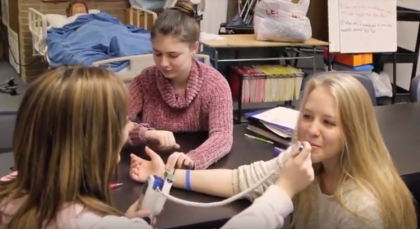 Health Occupations
Alexis, Marquette HS Health Occupations Student
"The review of my interviewing skills was very meaningful and will definitely help me in my future."
Anna, Marquette HS HOSA student
"The mock interviews were an awesome experience because as high school students we have limited opportunities to practice interviewing. I feel so much better prepared for future interviews after this experience and it was really great to learn tips and tricks from the experts!"
BreeOna, Marquette HS HOSA (former student) Medical School Student
"I already had a pretty good idea that I wanted to be a physician, and going into this course confirmed this notion. I was fortunate to shadow in the Neurology and Neurosurgery Department at MGH for one of my Health Occ rotations. I was fascinated by the detective-like way in which the physicians expertly piece together seemingly unrelated clues from patient histories and neurological testing."
Brooke, Marquette HS HOSA (former student) MSU Medical Laboratory Science Student
"Health occupations at Marquette Senior High School allowed me to experience a wide array of careers and opportunities. I am currently at MSU studying Medical Laboratory Science, a field I picked due to learning about it in Health Occupations. Not only did this class allow us to have a shadowing experience at local hospitals or clinics, but also allowed us to network with professionals in the field. This class helped me solidify my choice of going into the healthcare field."
Cassidy, Marquette HS HOSA Former Physician Assistant Student
"I want to thank my health occupations teacher for the skills she taught me! I have used the interview and professionalism skills frequently, as well as the medical terminology. I used these professionalism skills in an interview for PA school and I got in! I recently completed a mission trip to Honduras where we set up medical clinics in a village. The skills I learned in the health occupations class still stand true today, so thank you so much!"
Courtney R., Marquette HS Health Occupations Student
"I say take the class! It is a really good opportunity to try different things. If you have a couple different fields that you're thinking about this is a way to see which one you like better."
Craig, Marquette HS HOSA Physician (Resident, Former Student)
"I fondly think about my health occupations course back at Marquette High School. The course allowed me exposure to anatomy, various health care professions, and some of my first patient exposures. This course solidified my desire to go into surgery. It motivated me to complete my undergraduate training in three years and match into the College of Human Medicine at MSU. Since graduating from medical school my life has been extremely exciting!"
Kathleen, Marquette HS HOSA (former student)
"The Heath Occupations (HOSA) program was one of my more helpful classes. The class not only taught me things like anatomy and medical terminology, but it also taught useful life skills, such as, first aid skills and CPR. The first aid skills and the medical knowledge have been very helpful. In college I took a human disease/genetics class and everything that I learned was covered in the Health Occ class, so it gave me a good background. Overall, I very much enjoyed the class!"
Katlin, Marquette HS HOSA (former student)
"My experience in the Health Occupations (HOSA) course at MSHS was a once in a life time great opportunity! It was that time of my life where the next step was college. It's a big decision for anyone applying to college, to decide what to major in. I knew I was interested in the health field but wasn't exactly sure what direction I wanted to go in. While taking the health occupations class I was introduced to hundreds of different career options! I found out I was very interested in Veterinarian Medicine and Sonography."
Kayla, Marquette HS HOSA (former student) RN, BSN, CCRN/Doctorate of Nursing Student
"I was extremely fortunate to be in Health Occupations. For two hours every day we went to Marquette General Hospital and shadowed a nurse. Before I started the school year, I met with the Manager of Human Resources. After a miniature "interview" he told me that he thought I would make a great Certified Registered Nurse Anesthetist (CRNA). The first half of the school year I was able to shadow a CRNA. While I was in the Operating Room I was able to witness numerous operations!"
Mary, Marquette HS Health Occupations Student
"I appreciate all the tips and advice I was given [during the mock interviews]. I look forward to using these skills in the future."
Mary, Marquette HS Health Occupations Student
"I appreciate all the tips and advice I was given [during the mock interviews]. I look forward to using these skills in the future."
Mikaila, Marquette HS Health Occupations Student
"The feedback and honest evaluation [from mock interviews] will help me in future findings of jobs and job interviews, especially in my pursuit to become an orthodontist."
Mikaila, Marquette HS Health Occupations Student
"The feedback and honest evaluation [from mock interviews] will help me in future findings of jobs and job interviews, especially in my pursuit to become an orthodontist."
Nazgul, Marquette HS HOSA (former exchange student)
"I am from Kyrgyzstan. I was very lucky to be part of this program where I experienced theoretical instruction at MSHS and practical instruction at the Marquette Hospital. Class was always interesting with a friendly atmosphere! I was placed at the ICU and Cardiology. This program taught me teamwork and to be courageous. I learned psychology of patients. I would highly recommend this class! You will discover so many interesting things with teachers and specialists who will inspire and motivate you!"
Rachel, Marquette HS HOSA (former student)
"Health Occupations (HOSA) was one of my favorite classes in high school! I was able to learn so much about the different careers in the medical field and about what direction that I wanted to take. What was really valuable was actually being able to shadow a professional in their day to day tasks! Health Occupations was a great learning opportunity that I'm happy I had."
Ronda Manninen, Marquette HS (Lab Technician) Health Occupations and Anatomy Teacher
"For students who want to actually experience it firsthand Health Occupations is an opportunity to do clinical rotations in a career that they want to explore."
Sammy, Marquette HS Health Occupations Student
"I really feel the mock interview better prepared me for my future as a professional."
Tara, Marquette HS HOSA student
"Health Occupations (HOSA) is a really great class! It prepares you for the future and gives you hands on experience. It taught me how to make a proper resume and cover letter, prepared me for job interviews and most important gave me an insight on the type of career I want to go into!"
Taylor, Marquette HS Health Occupations Student
"It was great getting feedback on my resume and interviewing skills. It will help me secure a great interview in the future!"
Taylor, Marquette HS Health Occupations Student
"It was great getting feedback on my resume and interviewing skills. It will help me secure a great interview in the future!"
Career Focus
Prepared for immediate employment, advanced certifications, and further education.
Details
The Health Occupations program seeks to meet present and predicted needs for health care workers within a health care delivery system characterized by diversity and changing technologies. This program recruits qualified and motivated students and prepares them for pursuit of appropriate health careers.
Curriculum incorporates concepts related to the health care delivery system including:
Ethics
Professionalism
Prevention (wellness)
Patient/client diagnosis
Treatment
Care
Rehabilitation as a result of disease/disorders
Teaching/learning strategies integrate appropriate workplace basic skills, assisting students in using resources and technologies, functioning as effective members within a complex system, and accessing and using appropriate information/data.
Opportunities for expanded leadership, management, technical, and citizenship development are available through membership in a co-curricular student organization, Hosa - Future Health Professionals (Hosa - FHP). Hosa - FHP seeks to instill an attitude of pride, commitment, and professionalism in its members, and strives to build self-esteem and confidence. Hosa - FHP enhances the delivery of compassionate, quality health care by providing opportunities for knowledge, skill and leadership development of middle school, high school and post-secondary students interested in healthcare.
The class is offered at Marquette High School, and is open to students from Gwinn and Superior Central High Schools. Students also complete a semester-long work-based learning experience through a clinical rotation at Marquette General Hospital.
Who Can Attend
This class is typically available only to students in grade 12.
Note: Although not required, prior or concurrent enrollment in Anatomy & Physiology (Diagnostic Services) is recommended for the Health Occupations Program.
Michigan and National Employment and Wage Data
Bachelor's Degree or Higher
Athletic Trainer
Audiologists
Career/Technical Education Teachers
Chiropractors
Dentists
Dietitians and Nutritionists
Health Services Managers
Medical and Clinical Laboratory Technologists
Nurse Anesthetists
Nurse Practitioners
Occupational Health and Safety Specialists
Occupational Therapists
Optometrists
Pharmacists
Physical Therapists
Physician Assistants
Physicians and Surgeons
Registered Nurses
Speech-Language Pathologists
Veterinarians
Zoologists and Wildlife Biologists
Associate's Degree, Long Term Training, Apprenticeships
Cardiovascular Technologists and Technicians
Chemical Technicians
Dental Hygienists
Diagnostic Medical Sonographers
Dietetic Technicians
Environmental Science and Protection Technicians, Including Health
Medical and Clinical Laboratory Technicians
Opticians, Dispensing
Physical Therapist Assistants
Radiologic Technologists
Respiratory Therapists
Veterinary Technologists
Certificate or Moderate-Term Training
Dental Assistants
Emergency Medical Technicians and Paramedics
Healthcare Practitioners and Technical Workers
Licensed Practical and Licensed Vocational Nurses
Massage Therapists
Medical Assistants
Medical Records and Health Information Technicians
Medical Transcriptionists
Nursing Assistants
Pharmacy Technicians
Phlebotomists
Surgical Technologists
High School Diploma or Equivalent & Short Term Training
Healthcare Support Workers
Health Technologists and Technicians
Home Health Aides
Occupational Therapy Aides
Personal Care Aides
Physical Therapist Aides
Psychiatric Aides
Supervisors of Personal Service Workers
Veterinary Assistants and Laboratory Animal Caretakers
Students should inquire within their guidance office about high school curriculum requirements that may be satisfied through a CTE class, as this is determined individually by school district.
College credit(s) possible
Students can earn 1 college credit from NMU
Students must earn a grade of 90% or better and be recommended by the instructor
Each college reserves the right to set its own credit-granting policy
Contact your college(s) to find out the score it requires to grant credit, the number of credit hours granted, and the course(s) that can be bypassed with a satisfactory score
NMU course satisfied:
HL 101 - Medical Terminology - NMU Credits Granted 1
MEDTalk at Marquette Senior High School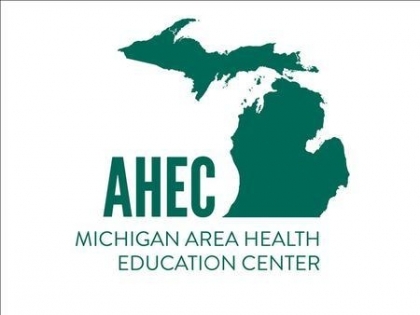 The second annual MEDTalk conference is a one-day event at Marquette Senior High School. Experts on trending healthcare topics will offer ten, 17 to 20 minute presentations in the TEDTalks format. The mission of the 2018 MEDTalk Conference is to expose young people, grades 9 through 12, to a variety of current and emerging health topics and associated careers working in these areas. All Upper Peninsula high schools were invited. The conference is designed to enlighten and educate students from all counties, in an open, interactive way. The purpose of MEDTalk is to develop leadership and technical skills critical to the healthcare field through a program of exposure, education, team-building, cultural diversity, and awareness building.
What to do next?
Instructors: Ronda Manninen
Locations & Instructors
Marquette Senior High School
1203 West Fair Avenue
Marquette, Michigan 49855
Instructors: Ronda Manninen
MSHS Health Occupations Video