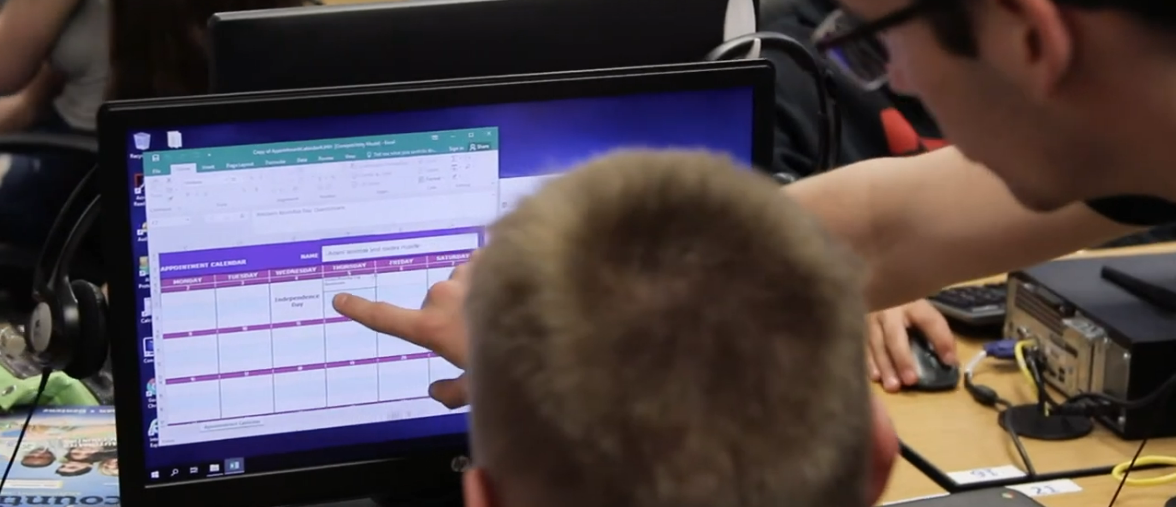 Finance & Financial Management
Connor M., Westwood High School. Student
"Anybody thinking about taking these classes - I would strongly recommend it!"
Kayla A., Westwood High School, Student
"You might think that business is all crazy number crunching and filing, and not fun. But, really you can make it fun! I suggest taking as many business classes as you can!"
Ronalyn Arseneau, Westwood High School, Teacher
"We have three [business related] CTE programs here at Westwood and we offer thirteen different business classes across those three programs. Each year for those 40 years [that we've participated in BPA] we've had students qualify for national competition."
Sabina Villar, Westwood High School, Teacher
"There's such a variety of what can be learned in the business department. Anything that interests or piques a student's curiosity can be addressed. My favorite parts of the programs offered here at Westwood is seeing students find something they truly love to do!"
Career Focus
Prepared for immediate employment, advanced certifications, and further education
Who Can Attend
This class is typically available to students in grades 11-12.
Prerequisites: All students must successfully complete an Information Management course.
Details
This program consists of courses in Accounting and Advanced Accounting, where students will be introduced to the theory and practice of accounting and financial reporting.
Accounting
In Accounting, students will complete all phases of the accounting cycle, including:
Collecting and verifying source documents
Analyzing and journalizing transactions
Posting transaction data to ledger accounts
Preparing a trial balance, worksheets and financial statements
Recording, adjusting and closing entries and preparing a post-closing trial balance
Advanced Accounting
Advanced Accounting is designed to help students develop in-depth knowledge of the principles of accounting, with more emphasis being placed on financial statements and accounting records. The course is a study of previously-learned principles as they apply to more complicated types of business organizations. Students will become familiar with specialized fields of accounting, including:
Cost accounting
Tax accounting
Payroll accounting
Managerial accounting
Financial projections / interpretations
Financial Programs
Financial programs range from personal finance and money management to corporate accounting with an emphasis on the use of the technology and computerized accounting to analyze financial data. Students enrolled in this program have the opportunity to compete at the regional, state and national levels in Business Professionals of America (BPA) in contests such as Fundamental Accounting, Advanced Accounting, Payroll Accounting, Personal Financial Management, Banking and Finance, and Financial Analyst Team, among others, which allows them to attend workshops, network with business students from around the country, and experience travel. Many students have achieved national recognition in BPA.
Michigan and National Employment and Wage Data
Bachelor's Degree or Higher
Accountants and Auditors
Appraisers and Assessors of Real Estate
Audio-Visual and Multimedia Collections Specialists
Career/Technical Education Teachers
Chief Executives
Compliance Officers
Cost Estimators
Credit Analysts and Counselors
Designers, Graphic & All Other
Financial Analysts
Loan Officers
Market Research Analysts and Marketing Specialists
Meeting, Convention, and Event Planners
Personal Financial Advisors
Public Relations Specialists
Purchasing Agents, Except Wholesale, Retail, and Farm Products
Sales Representatives, Wholesale and Manufacturing, Technical
Securities, Commodities, and Financial Services Sales Agents
Specialists, Financial, Human Resources & Labor Relations
Associate's Degree, Long-Term Training & Apprenticeships
Broadcast Technicians
Claims Adjusters, Examiners, and Investigators
Funeral Service Managers
Human Resources Assistants, Except Payroll
Photographers
Real Estate Sales Agents
Certificate or Moderate-Term Training
Advertising Sales Agents
Advertising Sales Agents
Audio and Video Equipment Technicians
Bill and Account Collectors
Clerks
Data Entry Keyers
Eligibility Interviewer
Insurance Sales Agents
Sales Representatives, Except Technical
Secretaries, Legal, Medical
Sound Engineering Technicians
Tax Preparers
Travel Agents
High School Diploma or Equivalent & Short-Term Training
Cashiers
Clerks
Customer Service Representatives
Gaming
Library Assistants, Clerical
Receptionists
Retail Sales
Sales Representatives, Services, All Other
Secretaries and Administrative Assistants
Switchboard Operators
Students should inquire within their guidance office about high school curriculum requirements that may be satisfied through a CTE class, as this is determined individually by school district. The courses in this program at Westwood High School satisfy the 4th year math credit requirement.
College credit(s) possible (CLEP Test required)
Students have the potential of earning college credits by achieving satisfactory scores on the College Level Examination Program exam (CLEP)
Each college reserves the right to set its own credit-granting policy
Contact your college(s) to find out the score it requires to grant credit, the number of credit hours granted, and the course(s) that can be bypassed with a satisfactory score
National College Credit Recommendation (Test required)
Students have the potential of earning college credits by scoring 70% or better on the National Occupational Competency Testing Institute (NOCTI) assessment for Advanced Accounting
Test is administered in the classroom during mid-spring semester to students at the end of their Finance and/or Business programs
Over 1,500 colleges and universities accept NOCTI credit recommendations
Westwood Students Prepare for National Business Professionals Competition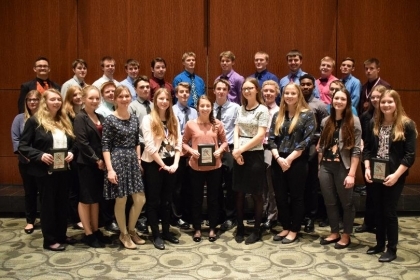 A group of Westwood High School students are gearing up to compete at the Business Professionals of America National Leadership Conference at the end of the month!
In March, 31 students from Westwood High School competed at the Michigan Business Professionals of America State Leadership Conference. During the competition they took part in events that tested their skills with office systems, accounting, administrative concepts and even word processing.
Of those 31, 13 were chosen to advance to the National Conference in Anaheim, California.
Those students have been hard at work honing their skills. Skills that will not only help them to succeed at the conference, but also in their future careers.
"It's possible that my future career will involve something business related, so it's good practice for that, and it is fun to get to travel," said Aili Harmon, a junior at WHS.
Locations
Finance & Financial Management is offered at:
Marquette Senior High School
Negaunee High School
Westwood High School