Drafting/Design Technology (CAD)
Allyson J., Negaunee HS, CADD Student
"I want to work with doctors to create tools and prosthetics made out of plastic. It's so cool to see the different technological aspects of engineering!"
Kevin Bell, Negaunee HS, CADD Teacher
"A lot of [our students] are going into engineering, computer drafting and architecture. A big topic right now is plastics engineering."
Career Focus
Prepared for immediate employment, advanced certifications, and further education
Who Can Attend
This class is typically available to students in grades 9 -12.
Details
Students are prepared to enter college and the workforce as a skilled CAD technician. Students will graduate with advanced CAD skills by training on the most current CAD software. Students complete 2D and 3D projects with an emphasis on constructing what you design using advanced and specialized computer-aided drafting skills.
This class uses the most popular 3D CAD options, Autodesk's AutoCad and Inventor, and Solidworks.
Michigan and National Employment and Wage Data
Bachelor's Degree or Higher
Architects, Except Landscape
Architectural and Engineering Managers
Career/Technical Education Teachers
Commercial and Industrial Designers
Engineers
General and Operations Managers
Industrial Production Managers
Purchasing Managers
Associate's Degree, Long-Term Training & Apprenticeships
Architectural and Civil Drafters
Boilermakers
Computer Numerically Controlled Machine Tool Programmers
Drafters, All Other
Mechanical Drafters
Civil Engineering Technicians
Industrial Engineering Technicians
Jewelers and Precious Stone and Metal Workers
Machinists
Mechanical Engineering Technicians
Millwrights
Plumbers, Pipefitters, Steamfitters
Power Plant Operators
Sheet Metal Workers
Structural Iron and Steel Workers
Tool and Die Makers
Water and Wastewater Treatment Plant and System Operators
Wind Turbine Service Technicians
Certificate or Moderate-Term Training
Chemical Equipment Operators
Computer-Controlled Machine Tool Operators
Furnace, Kiln, Oven, Drier, and Kettle Operators
Inspectors, Testers, Sorters, Samplers, and Weighers
Installation, Maintenance, and Repair Workers
Machine Setters
Maintenance Workers, Machinery
Mechanical Door Repairers
Medical Equipment Repairers
Structural Metal Fabricators and Fitters
Tool Grinders, Filers, and Sharpeners
Welders, Cutters, Solderers, and Brazers
High School Diploma or Equivalent & Short-Term Training
Cutting and Slicing Machine Setters, Operators
Helpers--Installation, Maintenance, and Repair Workers
Helpers--Pipelayers, Plumbers, Pipefitters, and Steamfitters
Helpers--Production Workers
Sawing Machine Setters, Operators
Supervisors of Mechanics, Installers and Repairers
Supervisors of Production and Operating Workers
Woodworking Machine Setters, Operators
Students should inquire within their guidance office about high school curriculum requirements that may be satisfied through a CTE class, as this is determined individually by school district.
College credit(s) possible
Students can earn up to 4 college credits from NMU
Students must earn a grade of 90% or better and be recommended by the instructor
Each college reserves the right to set its own credit-granting policy
Contact your college(s) to find out the score it requires to grant credit, the number of credit hours granted, and the course(s) that can be bypassed with a satisfactory score
NMU course satisfied
DD 100 - Technical Drafting/Intro to CADD - NMU Credits Granted 4
National College Credit Recommendation (Test required)
Industry-recognized Certification
10-hour OSHA General Industry Safety Certificate*
*Credentials are nationally recognized, portable and stackable, which means students have the option of attaining more advanced credentials in the future.
Negaunee HS CAD Bridge Building Dynasty!
Back to back to back to back to back............ national titles in model bridge building!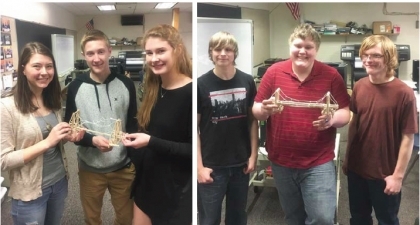 Kevin Bell and three seniors from his Negaunee High School Computer-Aided Design (CAD) class will compete for the Upper Peninsula school's 10th straight contest that tests students' design, engineering, and construction skills.
The highly competitive TRAC Bridge Challenge now accepts six entries from more than 250 junior and senior teams vying to compete from across the country, so even being accepted into the competition is tough. In previous years, only three teams were selected to compete.
In 2011, Bell's three teams represented the entire national competition.
Students apply for entry by writing a proposal and submitting drawings and photos of their design process and bridge. Those who are accepted to compete must deliver a PowerPoint presentation and watch their model go through strength testing.
Students spend months researching, designing, constructing and testing model bridges made of balsa wood, glue, and string that can bear weight. Bell's winning team last year built a bridge that weighed 26 grams and held 254 pounds. The key is scoring a high strength-to-weight ratio.
"This is the best cross-curricular project you could ask for," Bell said. "They're using math skills; they're using writing skills; they're using CAD skills; and in some ways they're using business skills."
Bell's students have competed for years in competitions at both the state and national level. This year both of his three-person teams qualified for the state competition, administered by the Michigan Department of Transportation and judged by working engineers from MDOT.
And Bell recently learned one of his teams will be headed to Tennessee for this year's national challenge run by the American Association of State Highway and Transportation Officials. The challenge in both competitions this year was to construct a self-anchored suspension bridge.
The teams have spent a lot of time doing compression and torsion testing of their materials and different kinds of joints. There is trial-and-error, redesigning, and revising to be done. The end product combines students' knowledge and research with their unique style, Bell said.
He has built a unique four-year CAD program that attracts both college-bound students interested in mechanical, architectural, and civil engineering and those interested in a skilled trades career after high school. Bell also teaches welding and wood-working at the school.
A feeder program at the middle school—taught by Bell's brother—introduces students to design concepts using pencil and paper on drafting boards. When they move through Bell's program throughout their high school careers, students use the same software as professionals in the field.
The reasons for the program's huge success are many, Bell said. Not many school districts are committed to fund a CAD program that students can follow from middle school through all four years of high school.
The program starts with the basics on pencil and paper to build students' foundational understanding, before transitioning in second semester of freshman year to using the technical equipment that Bell has acquired: computers, software, 3-D printers.
Of course, the students themselves are a key ingredient, he says. They look forward to the bridge building competitions for three years. "It's a full year of work, and I only have them for an hour a day which goes by pretty quick. They do a lot of work at home."
Nearly all of his students go on to some kind of career in engineering or a skilled trade in industry, he said.
"They're kids who are highly motivated, just a great group. They want to excel, so that helps a lot, too."
Both of Bell's teams will attend the MDOT Michigan Design and Build Bridge Challenge. In addition, the team known as Bridge Builders of Negaunee, will go to the AASHTO TRAC Bridge Challenge in Tennessee.
Locations
Gwinn High School
Munising High School
Negaunee High School