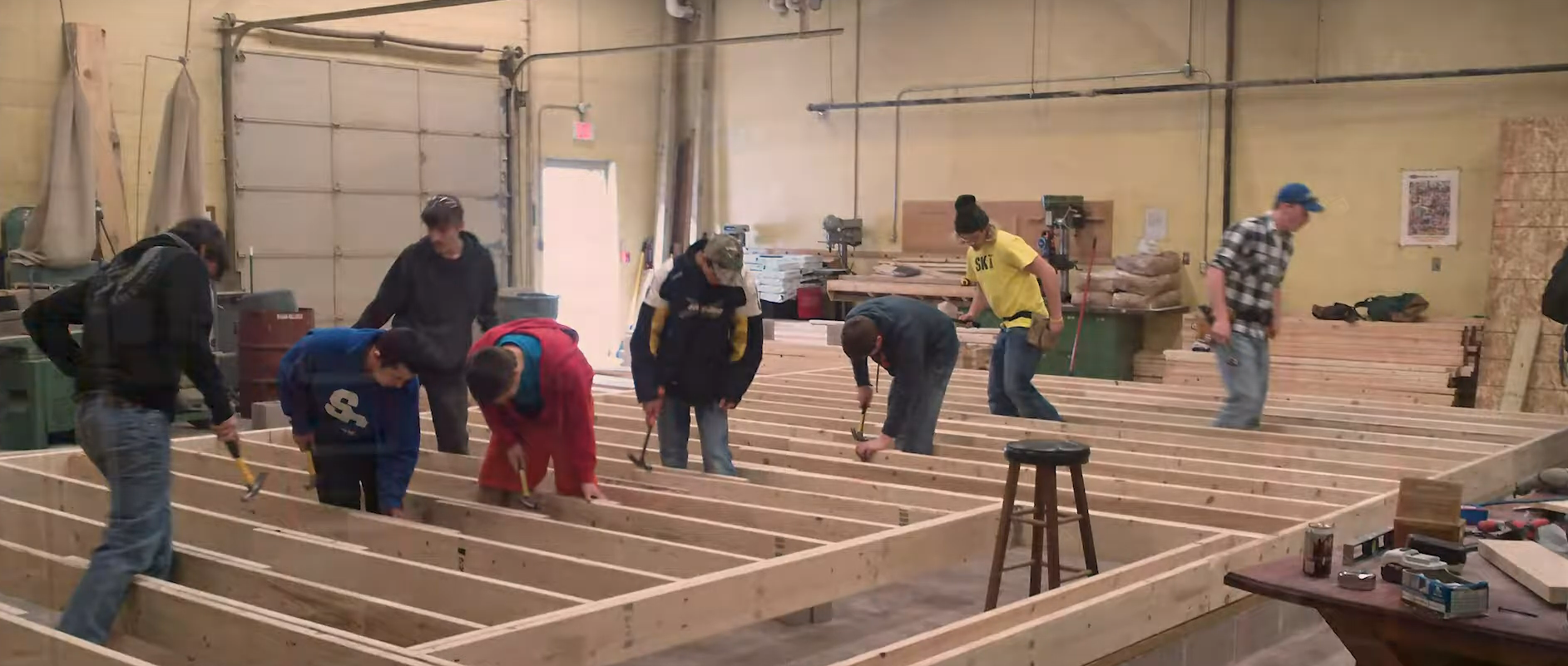 Construction Trades
Aubrey C., Gwinn HS, Building Trades Student
"I like being able to look at things and say, hey, I created that. If you're thinking about taking this class, definitely do it!"
Katie J., Gwinn HS, Building Trades and MATMC (Middle College) Student
"I'd love to see women follow in my footsteps and choose this career pathway. It's fun!"
Michael Nicosia, Gwinn HS, Building Trades Instructor
"I'm not building any of these projects, it's all student made."
Career Focus
Prepared for immediate employment, apprenticeship opportunities, advanced certifications, and further education
Details
This class provides a unique opportunity for students to learn carpentry and construction skills by participating in the construction of a variety of projects, including large commercial buildings. Students are prepared for entry-level employment skills in the construction field and for participation in post-secondary construction- related programs such as construction management, construction engineering, and architecture.
Who Can Attend
This class is typically available to students in grades 10-12.
What You Will Learn
Students participate in
estimating, layout, foundation and cement work,
rough-in carpentry, roofing, wiring, interior wall finishing,
exterior finishing and siding,
finish carpentry including trim, etc.
Students are involved in all phases of residential construction. They are also exposed to blueprint reading as well as math and science concepts as they relate to the construction field.
In addition to participating in post high school programs, many graduates of this program work for area contractors or establish themselves as a licensed contractor.
Michigan & National Wage and Employment Data
Bachelor's Degree or Higher
Architects, Except Landscape and Naval
Architectural and Engineering Managers
Career/Technical Education Teachers
Civil Engineers
Commercial and Industrial Designers
Construction Managers
Engineers, All Other
Environmental Engineers
Landscape Architects
General and Operations Managers
Purchasing Managers
Surveyors
Urban and Regional Planners
Associate's Degree, Long-Term Training & Apprenticeships
Architectural and Civil Drafters
Brickmasons and Blockmasons
Carpenters
Civil Engineering Technicians
Drafters, All Other
Explosives Workers, Ordnance Handling Experts, and Blaster
Glaziers
Maintenance and Repair Workers
Radio, Cellular, and Tower Equipment Installers and Repairers
Structural Iron and Steel Workers
Wind Turbine Service Technicians
Certificate or Moderate-Term Training
Cabinetmakers and Bench Carpenters
Cement Masons
Construction and Building Inspectors
Construction and Related Workers, All Other
Crane and Tower Operators
Drywall and Ceiling Tile Installers
Excavating and Loading Machine and Dragline Operators
Helpers--Extraction Workers
Operating Engineers and Other Construction Equipment Operators
Painters, Construction and Maintenance
Paving, Surfacing, and Tamping Equipment Operators
Rail-Track Laying and Maintenance Equipment Operators
Roofers
Structural Metal Fabricators and Fitters
Surveying and Mapping Technicians
High School Diploma or Equivalent & Short-Term Training
Construction Laborers
Helpers--Brickmasons, Blockmasons, Stonemasons, and Tile
Helpers--Carpenters
Helpers--Installation, Maintenance, and Repair Workers
Helpers--Painters, Paperhangers, Plasterers, and Stucco Masons
Helpers--Pipelayers, Plumbers, Pipefitters, and Steamfitters
Helpers--Roofers
Industrial Truck and Tractor Operators
Laborers and Freight, Stock, and Material Movers
Landscaping and Groundskeeping Workers
Riggers
Tank Car, Truck, and Ship Loaders
Students should inquire within their guidance office about high school curriculum requirements that may be satisfied through a CTE class, as this is determined individually by school district.
Students can earn up to 4 college credits from NMU
Students must earn a grade of 90% or better and be recommended by the instructor
Each college reserves the right to set its own credit-granting policy
Contact your college(s) to find out the score it requires to grant credit, the number of credit hours granted, and the course(s) that can be bypassed with a satisfactory score
NMU courses satisfied
CN 110 - Construction Processes - 2 NMU credits granted
CN 156 - Construction Systems & Methods - 2 NMU credits granted
Industry-recognized Certification
10-hour OSHA Construction Industry Safety*
*Credentials are nationally recognized, portable and stackable, which means students have the option of attaining more advanced credentials in the future
Governor Snyder visits Geometry in Construction
Geometry in Construction students at Ishpeming and Westwood High Schools build better neighborhoods!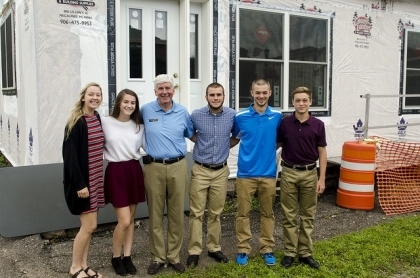 Instead of reading a math textbook, Geometry in Construction students at Ishpeming High School worked to refurbish a house. The course inspired a program called Hematites Building Better Neighborhoods, which formally dedicated the Geometry in Construction class to fighting blight in Ishpeming.
The premise behind Geometry in Construction program is that students benefit from hands-on, experiential learning.
The students that have struggled with math in the past do exceedingly well when they get through geometry in construction and at the end of the years, they test just as high as the students that had previously done well in earlier math classes.
Ishpeming High School's first house is being remodeled with a $50,000 grant from the Cliffs Natural Resources/Eagle Mine Marquette County Community Fund. When it's done, the Marquette County Land Bank Authority will sell the house and use the proceeds to renovate another house.
Westwood High School also teaches Geometry in Construction, and they're building a house from scratch in West Ishpeming.
Snyder toured both houses. He said exposing high school students to the trades was critical for the U.P.'s economy. Due to its aging workforce, the U.P. may develop a skills deficit unless more young people go into skilled trades. He said those skills were more in demand than ever as the U.P. sees more economic development.
"There are different economic opportunities up here in terms of ways to grow," Snyder said. "I just came from Munising. If you looked at what's going on with the tourism, they're building hotels, different places to stay. You're seeing that in Marquette. I hope to see this area continue to grow in terms of new opportunities for tourism and growth there. That's construction."
Snyder is already taking steps to promote Career and Technical Education. He created the Michigan Career Pathways Alliance in June to strengthen and expand CTE throughout the state.
"I don't think you could find a governor anywhere in the United States who's been more supportive of Career and Technical Education than Gov. Snyder," said Brian Sarvello, director of the Marquette-Alger Regional Educational Service Agency's CTE programs.
Locations
Construction Trades are offered at:
Gwinn High School
NICE Community Schools
Marquette Senior High School
Superior Central