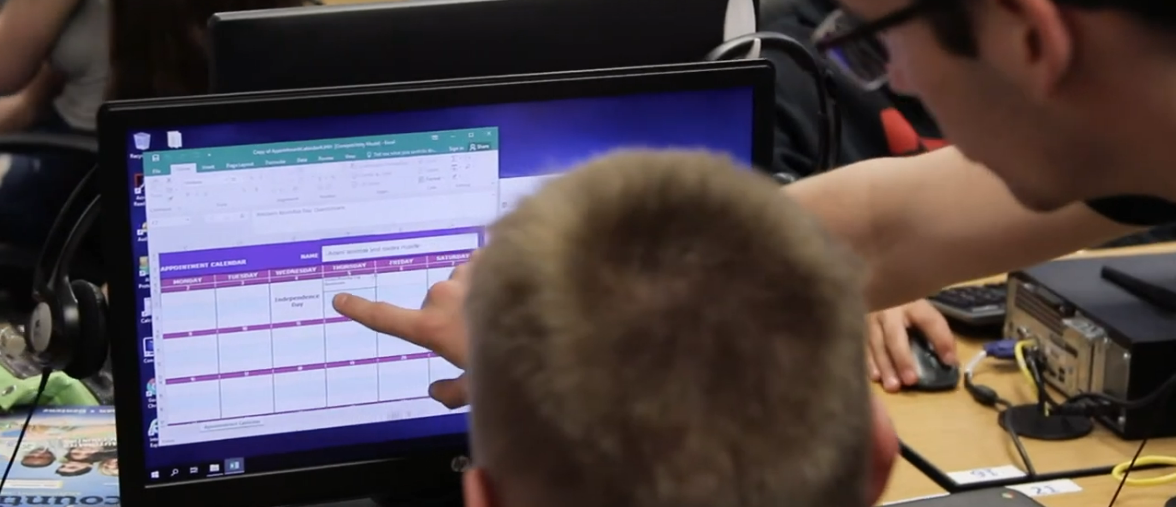 Business Administration, Management & Operations (BAMO)
Danielle Dickson, Marquette HS Business Management and Accounting Teacher
"It's very practical. So a lot of kids even if they don't go into business can use this for personal reasons. My goal with these classes is to teach them life skills."
Career Focus
Prepared for immediate employment, advanced certifications, and further education
Who Can Attend
This class is typically available to students in grades 10-12.
Details
Marquette High School provides a robust selection of business, finance and technology programs, both at the micro and macro levels of business education. With an emphasis on both technical and employability skills, students who enroll in these classes will be well prepared for the rigors of similar college programs and careers in business.
The business class features business simulations and real-world applications and covers everything from business basics and being a savvy consumer to the development of actual entrepreneurial business plans. Students are exposed to everything from basic word processing, Microsoft Office applications and Google Apps to advanced web design, interactive graphics and media production.
Opportunities
Business, finance and technology courses should be part of the curriculum for every high school student, helping young adults manage their own financial affairs and make intelligent consumer and business-related choices in the global marketplace.
Michigan and National Employment and Wage Data
Bachelor's Degree or Higher
Accountants and Auditors
Appraisers and Assessors of Real Estate
Audio-Visual and Multimedia Collections Specialists
Career/Technical Education Teachers
Chief Executives
Compliance Officers
Cost Estimators
Credit Analysts and Counselors
Designers, Graphic & All Other
Financial Analysts
Loan Officers
Market Research Analysts and Marketing Specialists
Meeting, Convention, and Event Planners
Personal Financial Advisors
Public Relations Specialists
Purchasing Agents, Except Wholesale, Retail, and Farm Products
Sales Representatives, Wholesale and Manufacturing, Technical
Securities, Commodities, and Financial Services Sales Agents
Specialists, Financial, Human Resources & Labor Relations
Associate's Degree, Long-Term Training & Apprenticeships
Broadcast Technicians
Claims Adjusters, Examiners, and Investigators
Funeral Service Managers
Human Resources Assistants, Except Payroll
Photographers
Real Estate Sales Agents
Certificate or Moderate-Term Training
Advertising Sales Agents
Advertising Sales Agents
Audio and Video Equipment Technicians
Bill and Account Collectors
Clerks
Data Entry Keyers
Eligibility Interviewer
Insurance Sales Agents
Sales Representatives, Except Technical
Secretaries, Legal, Medical
Sound Engineering Technicians
Tax Preparers
Travel Agents
Students should inquire within their guidance office about high school curriculum requirements that may be satisfied through a CTE class, as this is determined individually by school district.
College credit(s) possible (CLEP Test required)
Students have the potential of earning college credits by achieving satisfactory scores on the College Level Examination Program exam (CLEP)
Each college reserves the right to set its own credit-granting policy
Contact your college(s) to find out the score it requires to grant credit, the number of credit hours granted, and the course(s) that can be bypassed with a satisfactory score
National College Credit Recommendation (Test required)
Students have the potential of earning college credits by scoring 70% or better on the National Occupational Competency Testing Institute (NOCTI) assessment for General Management
Test is administered in the classroom during mid-spring semester to students at the end of their Finance and/or Business programs
Over 1,500 colleges and universities accept NOCTI credit recommendations
Industry-recognized Certification (Test required)
*Credentials are nationally recognized, portable and stackable, which means students have the option of attaining more advanced credentials in the future
Locations & Instructors
BAMO is offered at:
Gwinn High School
NICE Community Schools
Marquette Senior High School
Negaunee High School