Automotive Technology
Aaron, Marquette Senior High School Student
"Every single day I come in, I learn something and this is the highlight of my day!"
Career Focus
Prepared for immediate employment, advanced certifications, and further education.
The MARESA/NMU CTE Automotive program offers a half step toward the college atmosphere applicable to most any post-secondary context, curriculum in alignment with an affordable college degree - available locally, skills training targeted toward entry level employment, hands-on experience with modern technology and industry specific equipment, and a chance to try something new!
Who Can Attend
This class is typically available to students in grades 11 - 12.
Students attend class made up of other Marquette and Alger County high school & homeschool students at NMU's Jacobetti Complex from 12:30 - 2:30.
Prerequisites: Helpful attributes and abilities to have are good math skills and excellent attendance
Course Details
Knowledge & Skills
Workplace safety
Employability practices
Logical problem solving
Precision measurement
Electrical diagnostics
Diagnosis & Engine Repair Skills
Steering
Suspension and alignment
Brakes
Manual

drivelines

and axles
Electrical and electronic systems
Heating, ventilation and air conditioning
Automatic transmissions/

transaxles

Proper engine performance
Opportunities
Other Applications
Mining operations
Heavy (diesel) equipment
Automotive manufacturing
Auto parts sales
Performance racing industries
Job Opportunities
Manufacturer specific dealerships
Independent repair facilities
Specialty service providers
Fleet maintenance and repair facilities
Michigan and National Employment and Wage Data
Bachelor's Degree or Higher
Career/Technical Education Teachers
General and Operations Managers
Associate's Degree, Long-Term Training & Apprenticeships
Automotive Body and Related Repairers
Automotive Glass Installers and Repairers
Bus and Truck Mechanics and Diesel Engine Specialists
Farm Equipment Mechanics and Service Technicians
Maintenance and Repair Workers, General
Mobile Heavy Equipment Mechanics
Motorboat Mechanics and Service Technicians
Recreational Vehicle Service Technicians
Certificate or Moderate-Term Training
Automotive Service Technicians and Mechanics
Installation, Maintenance, and Repair Workers
Maintenance Workers, Machinery
Motor Vehicles, Electronic Installers
Outdoor Power Equipment and Other Small Engine Mechanics
Tire Builders
High School Diploma or Equivalent & Short-Term Training
Automotive and Watercraft Service
Helpers--Installation, Maintenance, and Repair Workers
Motorcycle Mechanics
Supervisors of Mechanics
Tire Repairers and Changer
Students should inquire within their guidance office about high school curriculum requirements that may be satisfied through a CTE class, as this is determined individually by school district.
College credit(s) possible
Students can earn up to 12 college credits from NMU
Students must earn a grade of 90% or better and be recommended by the instructor
Each college reserves the right to set its own credit-granting policy
Contact your college(s) to find out the score it requires to grant credit, the number of credit hours granted, and the course(s) that can be bypassed with a satisfactory score
NMU courses satisfied
AUT 100 - Automotive Safety - NMU Credits Granted 1
AUT 110 - Powertrain Fundamentals - NMU Credits Granted 3
AUT 140 - Steering & Suspension Fundamentals - NMU Credits Granted 2
AUT 150 - Auto Brake Fundamentals - NMU Credits Granted 2
AUT 170 - Electrical & Electrical Systems I - NMU Credits Granted 4
NMU Automotive ranked #10 in nation and receives ASE Accreditation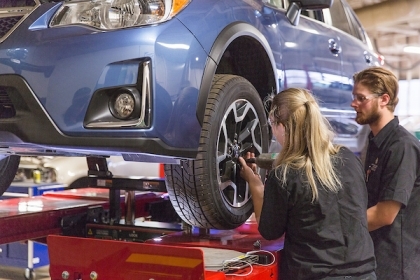 NMU Automotive ranks #10 for Best Auto Mechanic Schools in the nation and recently earned the Automotive Service Excellence Blue Seal of Excellence!
The Technology and Occupational Sciences Department at NMU works closely in partnership with industry professionals and businesses to provide internships and employment opportunities for students, giving them knowledge, experience, and connections.
The curriculum centers on Automotive Service Excellence (ASE) certification standards. The hands-on technical courses are taught with small class sizes in specialized labs in a state-of the-art facility, the Jacobetti Complex.
The degree programs offered through the Technology and Occupational Sciences Department are designed to "ladder" so that the credits of a certificate or 2-year degree can be applied toward a more extensive degree, such as a B.S. in a related field, without having to make up for missing credits. To aid in this, NMU offers numerous scholarship opportunities.
Location
NMU's Jacobetti Complex
2296 Sugar Loaf Ave
Marquette, MI 49855
Instructors
Randy Klitzke
Purpose of Automotive Program
The fundamental purpose of the MARESA/NMU CTE Automotive program is to provide students an opportunity they cannot otherwise gain elsewhere, to support the sustainability of our communities by introducing youth to career pathways, to provide a rigorous educational offering that facilitates students in being career and college ready, and to positively impact students' lives now and in the future.
Accreditations
The automotive technology instructor is ASE Master Technician certified (National Institute for Automotive Service Excellence) and the program is ASE accredited.